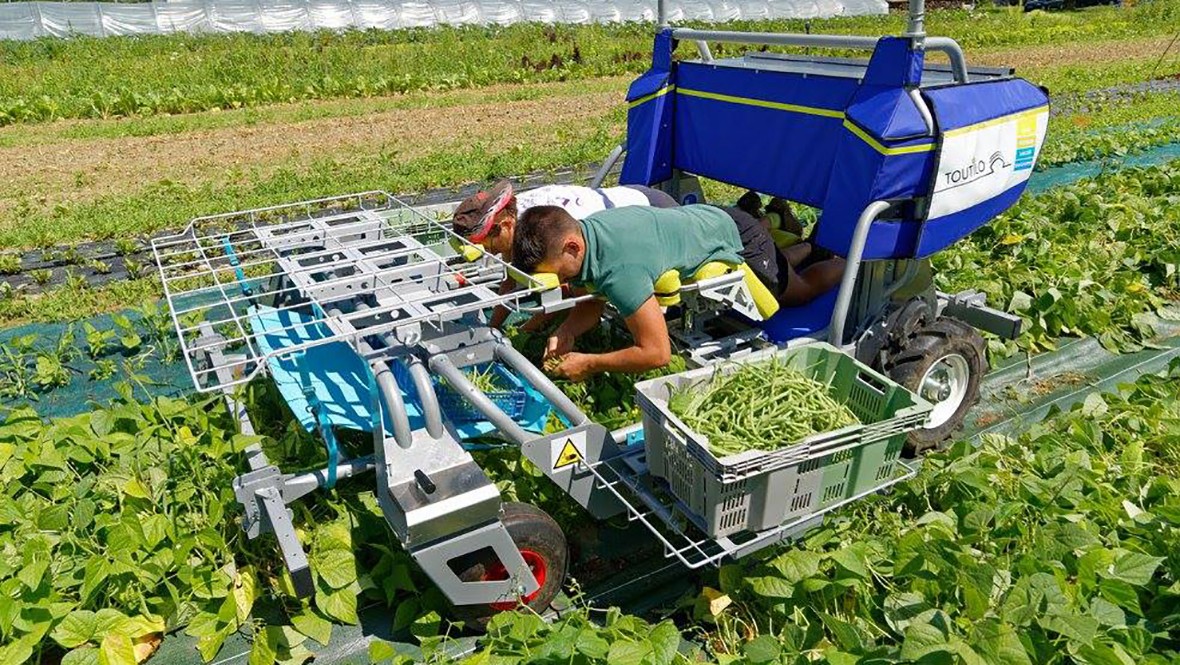 Touti Terre
TOUTI TERRE is a French company with an international ambition that has chosen to focus on "cobotics"; a technology that combines human and robotics to boost the productivity of small and large farms while preserving the health of its workers.
The market gardener, the only master of the pace, can then perform different tasks simultaneously thanks to the Toutilo. For example, the market gardener harvests crops while Toutilo weeds between the rows of crops. Thanks to automated guidance, he can concentrate fully on his work without worrying about driving and gain up to 35% of working time over a season. TOUTI TERRE is also developing technological solutions based on data collected to increase operator productivity.
Following on :
Reduce the hardship of agricultural work while increasing productivity. The mission is already partly complete and research is continuing so that Toutilo technology can help farmers in their daily tasks, but also in their planning.

Where are they and what are they looking for?
46 Toutilos sold in France, Europe and Canada.
The growing development of market gardening activities, a direct consequence of strong consumer demand for organic and local products that requires tools that increase the capacity of farmers.
Strong partnerships that will be able to support the industrialization in volume of products and services.

Why do we like the project?
Initially, it's a family story. A gardening sister, another industrial designer and a father who works in electronics… these are the three people who gave birth to the SME Touti Terre in 2014. "The goal was to answer the problem of my sister to make agricultural work less painful, recalls Flore Lacrouts-Cazenave, president of Touti Terre. So we designed a cobot: a robot that collaborates with humans. This one, named Toutilo, spans the planks of crops and allows the market gardener to plant, weed and harvest in an ergonomic position, being for example lying on the cobot. This can also be used for the transport of heavy loads. "We first developed a simple remote control, which allows Toutilo to be used manually," says Flore Lacrouts-Cazenave, "but as soon as we met Inria, we sought to improve the" man-machine "relationship and thus the development of the robotic part."