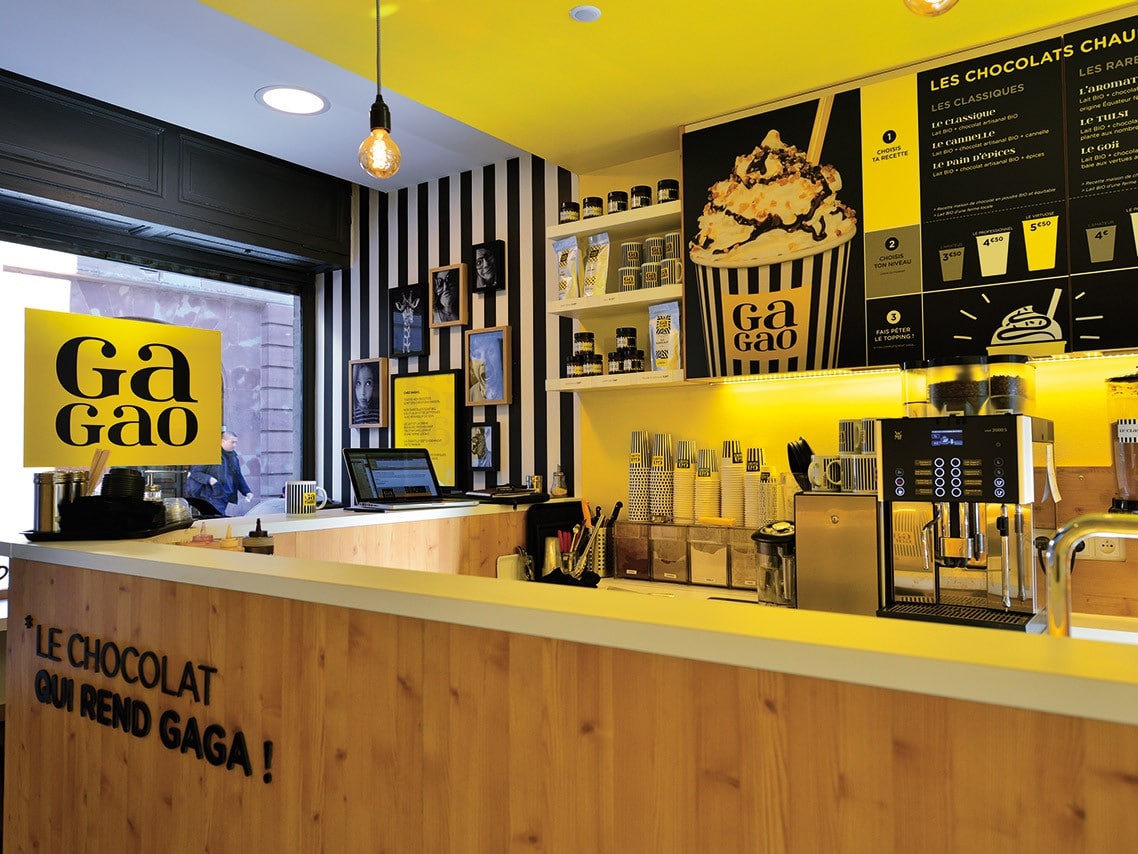 Gagao
Launched in Strasbourg in 2014 by the chocolatier Stéphane Gross, Gagao met very quickly the success with its first store and its original concept of chocolate to drink. coffee shop & artisanal cocoa, the brand serves both organic and fairtrade products, in an original setting where can be found both vegans, consumers of gluten-free products, lactose-free, and alternative milks with cow's milk.
"Gagao, coffee shop & cocoa bio"
Gagao is a coffee shop & an organic cocoa whose signature product is hot chocolate. Gagao makes chocolate "powders" in his workshop with organic chocolate from Ecuador.
In Paris, organic coffee from Brazil is roasted by LOMI. In Strasbourg, SATI, the regional roaster, takes care of the organic grains of Guatemala.
Chaï tea, iced teas, infusion of Aloe Vera and Hibiscus, are prepared with organic teas and spices from an Alsatian supplier, Jardins de Gaia.
B2C, B2B
Research candidates to develop franchises on French cities with more than 100,000 inhabitants.

Where are they and what are they looking for?
The first 100% organic French coffee shop launches a fundraising campaign with LITA.co, the responsible investment platform.

Why do we like the project?
A committed and original team using Ecosia, a search engine that helps save the planet.
Since February, with more than 1000 searches 26 trees planted.
In February 2019, 1,594,807 trees were planted in Burkina Faso, Madagascar and Spain thanks to their international association with several NGOs.
In addition to the fact that Ecosia is "good for the planet", it is a search engine that respects your privacy by not selling any data to advertisers.
In the "engaged" style, Gagao chose to raise funds with LITA.co, the online investment platform dedicated to sustainable, transparent and supportive finance.